In the print dialog I see 2-up, 4-up, etc. for one or two sides, and I see some page order options, but I don't see a way to print a document for a standard folded in half short way booklet to be saddle stitched. If there's a way, please let me know. If not, consider this a feature request. (Do I have to go to InDesign to do this?)
---
---
I use an option in the print dialog. If you select the PDF menu in the lower left of the dialog, I at least have an option Create Booklet (see screen shot). It creates a temporary PDF which is already imposed.

John
I think it's a standard thing, as I can't find an installer for it on my computer, so the price is right!
---
Thanks, JHB, but on mine there is no such menu item.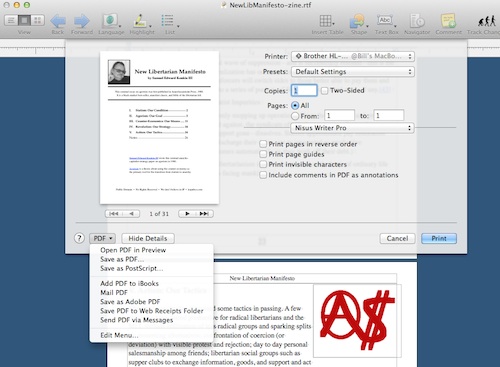 I have Nisus Writer Pro 2.0.7
Maybe I need a postscript printer for that option to show?
---
---
Cheapimpostor works very well for me. I use it several times a week and have done so for years. It is not free but has paid for itself many times over.
---
https://www.macupdate.com/app/mac/21068/create-booklet
I downloaded this and it seems to work okay in creating an A5 booklet printed on A4 paper. Margins may have to be adjusted on the source document. The old Nisus1 (pre system OS10) had this option. This is what originally attracted me to Nisus.
Works with Maverick and most word processors. For Nisus files I use Cheapimpostor.
---
I like Create Booklet better. It has more control, is available in all print dialogs, and has better preview (since it uses Preview.) It centered my booklet correctly the first time, while CheapImposter had me messing around with reduction sizes to get it right. And it's free. Thanks, JHB.
---
Both free DPF readers (1) Adobe Reader and (2) Adobe Acrobat Reader DC have a Booklet option in the print dialogue.
---